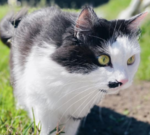 If you wanna play with power you're gambling with the king,
So bet on the crown,
Casino Royale
Chase your ambitions
♛
Things had been quiet recently. As Leafbare approached, the Clouded Claws' leader knew this was for the best. It was boring - frustrating even - but bringing the wrath of the other Clans on them now was not the time. He hoped his Hunters understood this. He had watched the small band carefully, waiting for dissent. In particular, his eyes landed on Boulderbite. He knew the tom's loyalty was not with him. His eyes narrowed but he pulled them away, scanning the clearing.

Several cats had made their way out of the dens and were eating or chatting. In a true rarity, it seemed almost everyone was around. He wondered if it was the time for a meeting. He knew that standing over them and making formal declarations ill suited the group, so instead, he moved to the middle of the clearing.

"Everyone," He mewed, just loud enough to ensure everyone had heard him, "I would like to have a discussion. Bring your meals if you'd like."

He waited until he had most eyes on him as he made himself comfortable. When a few of the cats began to approach, he scanned to see who was missing. Marquess appeared to be off - hunting if he recalled. Otherwise most everyone was around.

"With Leafbare here, we need to ensure we are properly supplied," He mewed, "Prim - I would offer you any support needed in maintaining our herb stores. As with our hunting, any Clan territory but RiverClan is free reign. Try not to draw attention to the tunnels we use in and out of the territories. Especially in ShadowClan."

"Downfeather, Azarias," He mewed next, turning his attention to the pair, "I would like you two to assist me with recruiting. In addition to my young friends in Thunder and Wind, any rogues and Loners you can sway to our cause are welcome."

"Any comments or concerns?"

[newclass=.cred]text-align:center;font-size:6pt;color:rgb(132, 132, 132);letter-spacing:1px;font-family:verdana;margin-top:5px;[/newclass]
[newclass=.cred a]color:rgb(132, 132, 132);font-size:6pt;letter-spacing:1px;font-family:verdana;[/newclass]