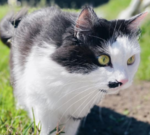 If you wanna play with power you're gambling with the king,
So bet on the crown,
Casino Royale
Chase your ambitions
♛
Antlercloud had been busy in the few short moons since the Claws had been formed. They had stayed largely unnoticed, though he suspected that at least one of his hunters had been trying to sneak their way back onto ShadowClan territory. He'd let it go unpunished for the time being. Let Condorstar fret over the heathens at his borders. Perhaps the old fool would fall over from a heart attack.

Unfortunately, in his preoccupied state, he'd let his friendships fall slightly to the wayside. They still shared the occasional meal and spoke at council meetings, but the tom felt genuine guilt when he realized how little attention he'd paid to Ratwhisker and Camelliarose recently. Especially the latter.

"Good morning," He purred, as he approached her with a fat rabbit he'd stolen from the Moorelands. The way the leafbare sun was striking her was actually distracting for a moment. How strange. He'd always acknowledged that she was beautiful, internally anyway, but it had never really struck him how attractive he found her. Wait - did he find her attractive? He'd never really felt that sort of draw before.

"I feel as though I owe you an apology, or perhaps a few," He mewed, giving her his
approximation of a bashful look. Best to ignore the thoughts and get to the groveling. He didn't think himself to good for such things, at least when it came to his dearest friend and inspiration,
"I've not made enough time for you, of late."
[newclass=.cred]text-align:center;font-size:6pt;color:rgb(132, 132, 132);letter-spacing:1px;font-family:verdana;margin-top:5px;[/newclass]
[newclass=.cred a]color:rgb(132, 132, 132);font-size:6pt;letter-spacing:1px;font-family:verdana;[/newclass]