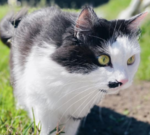 If you wanna play with power you're gambling with the king,
So bet on the crown,
Casino Royale
Chase your ambitions
♛
Another night, another tunnel to explore. Antlercloud hadn't quite developed the tunnel sense that the WindClan tunnellers supposedly had, but he wasn't getting lost nearly as often anymore. Unfortunately, he hadn't exactly wanted to come out so close to ShadowClan territory. The Night Warriors ensured that their territory was well defended at night, and he would receive no warm welcome there.
Still, the Maple Grove had been his favourite place as a young cat, so it was nice to see it again. It was the perfect time of year where the fireflies flickered about and the crisp red leaves had begun to fall... He could remember watching a young Porcupinepaw playing with the leaves.... and bleeding out at his paws as the screams of battle rang around them. The nostalgia slipped away as quickly as it had come.
A noise alerted him, and he turned - only to catch sight of a... large kit? No, surely that was an apprentice, if a small one. He tipped his head curiously, wondering what his company would do. He certainly couldn't outrun him. Would he be so brazen as to fight?

"Well, good evening," He greeted, dipping his head politely, "I nearly didn't notice you there. Quite stealthy for a ThunderClan cat, aren't you?"
[newclass=.cred]text-align:center;font-size:6pt;color:rgb(132, 132, 132);letter-spacing:1px;font-family:verdana;margin-top:5px;[/newclass]
[newclass=.cred a]color:rgb(132, 132, 132);font-size:6pt;letter-spacing:1px;font-family:verdana;[/newclass]