[newclass=.percpicon]display: inline-block[/newclass][newclass=.percpicon img]width: inherit; height: inherit; max-width: inherit; max-height: inherit; min-width: inherit; min-height: inherit; border-radius: inherit;[/newclass][nospaces]


[newclass="#percpost"]width: 530px; border: 1px solid #222; padding: 1px;[/newclass]

[newclass=".percpost1"]padding: 1px; border: 1px solid #222; background-color: #222;[/newclass]

[newclass=".percp4"]display: grid; grid-template-columns: 250px 100px 100px;[/newclass]

[newclass=".percp5"]padding: 20px; font-size: 150%; color: #f7f7f7;[/newclass]

[newclass=".percim"]grid-column-start: 1; grid-column-end: 2; grid-row-start: 1; grid-row-end: 6; width: 200px; background-image: url("https://i.imgur.com/KZj7XkM.png"); text-align: center; text-transform: uppercase; font-size: 9px; font-family: arial; text-shadow: 2px 1px #000; color: #f7f7f7;[/newclass]

[newclass=".percpb"]grid-column-start: 2; grid-column-end: 6; grid-row-start: 2; grid-row-end: 6; margin-top: -5px; margin-left: -20px; margin-right: -10px;[/newclass]

[newclass=".percpba"]grid-column-start: 2; grid-column-end: 6; grid-row-start: 1; grid-row-end: 2; border-bottom: 2px solid #215255; margin-right: 10px; height: 1px; text-transform: uppercase; font-size: 9px; font-family: arial;[/newclass]

[newclass=".percpicon"]width: 100px; height: 100px; border-radius: 60px; border: 1px solid #fff; opacity: 0.8; padding: 5px;[/newclass]

[newclass=".percptitle"]text-align: center; text-transform: lowercase; font-size: 25px; font-family: georgia; color: #fff; font-weight: bold; font-style: italic; margin-top: 5px; border-bottom: 2px solid #215255; margin-bottom: 1px; text-shadow: 2px 1px #000;[/newclass]

[newclass=".percscroll"]height: 450px; overflow: auto; text-align: justify; line-height: 14px; font-size: 11px; padding: 10px; font-family: verdana; margin-top: -5px; margin-bottom: -15px;[/newclass]

[newclass=".percscroll::-webkit-scrollbar"]width:2px;background-color:#215255;[/newclass]

[newclass=".percscroll::-webkit-scrollbar-track"]background-color:#222;[/newclass]
[newclass=".percscroll::-webkit-scrollbar-thumb"]background-color:#215255;[/newclass]


[attr="id","percpost"]
[attr="class","percpost1"]
[attr="class","percp4"]
[attr="class","percp5 percim"]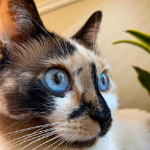 [attr="class","percpicon"]
[attr="class","percptitle"]lilycreek

warrior of riverclan
[attr="class","percp5 percpb"]
[attr="class","percscroll"]

Lilycreek had suspected something was up. She knew the signs of pregnancies from queens across the moons. However, she had never experienced those symptoms herself. Over the past quarter-moon though, that had changed. Lilycreek had felt uncomfortable in her own skin; nauseous, achy and she had felt constantly bloated. Her nose and senses were also exceptionally sensitive - much more so than normal. Lilycreek had more or less confirmed it herself; however, she did a quick visit to the medicine cat den to double check. The young apprentice - Guppypaw, had been present and after a few quick questions and a brief once over; she was able to conclude the calico's suspicions. [break][break]

Lilycreek felt a rush of excitement at the news. She immediately went to the warrior's den; it was still very early, most of the warriors were still asleep or just rising from their nests. She stood outside the den, shifting her weight from paw to paw anxiously. She had to tell Flickerstep, and she had to tell him now! Lilycreek knew that he'd be delighted at the news. Although the two had only just become mates; perhaps it was for the best that they had an early pregnancy, especially due to their looming ages.



|
Lilycreek
|
Played by 》
Perception
Condorstar
|
Sablefox
|
Butterflykit
|
Yuccakit
|
Bisontooth
Mulberrycloud
|
Cariboucall
|
Tawnyowl
|
Willowbrook
Magnoliadusk
|
Astershine
|
Monarchkit
|
Broccolikit
Lilycreek
|
Guppypaw
|
Basilbranch
|
Passerinekit
|
Merlinrush