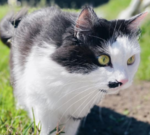 If you wanna play with power you're gambling with the king,
So bet on the crown,
Casino Royale
Chase your ambitions
❧
They'd lost. It burned his throat and stung his pride. He'd known it could happened - prepared for the possibility - made plan after plan. He'd never genuinely expected to need those plans. He'd thought that today he'd be gathering ShadowClan in a show of unity - preparing them - then participating in that foolish ritual. Even if it was all for show.
Instead, he was leading his bloodied followers and the members of the Feral Fangs through the tunnels beneath the waters of the sundrown place. These tunnels were far deeper than many of the ones that he'd explored, but also more secure, with some sections seemingly carved from stone. Thankfully, they finally neared the exit, based on the way it began to feel like climbing a hill. Then almost blinding moonlight in comparison to the dark tunnels bellow - and he emerged. From the tunnel, almost appearing to come out like a cave into an large escarpment. The stone and undergrowth created a well sheltered clearing. In the distance, through the trees and underbrush, one could see water on to the horizon. If one followed the beach, they'd find themselves on a large island, and from the far beach could easily see the shores of RiverClan territory.

Glancing over his shoulder as his followers exited the tunnels behind him, relieved to see that they didn't appear to have lost anyone in the dark. It had been a long trip, and the ShadowClan cats had been exhausted in the fighting.

"Everyone, before we rest," He called as he pounced to the top of an outcropping stone, "I know we didn't achieve what we aimed to do today. I failed you - and for that, I apologize."


He dipped his head, feeling a genuine pang of guilt. Salamanderclaw's body would not be interned with honours, he suspected. At least he was rid of Nightingalefur,
"We lost good cats. But we've also gained new allies."
He dipped his head to Prim and the strange hairless cat behind her, "Instead of looking at this as a loss, we should take our lumps and build from it. The Clan system fails us - and truthfully, I never could have built a better system from within. So together, I want to create a new system."
"I have no wish to be a leader who cannot be held to account," He half-lied, "And as such I wish to create a council of cats, those who can make proposals and who will vote in our best interest. Ratwhisker, Camelliarose, Prim, I would appoint you as the first. In the spirit of fairness, however - I would have another of the senior Fangs join this council. Prim - I would take your recommendation. More will be appointed in the coming days, but these core cats and myself will make up the backbone of our leadership."

"All of you, we are warriors no longer. We are Fangs no longer. I would give us a new name - The Clouded Claws," He told them, his eyes scanning for dissent, "And we will create new roles and a new way of life together."

"And when we have grown strong, we will take our revenge," His voice turned sinister, "ShadowClan will shatter beneath our paws, as will the rest."
word count ● OPEN ● notes
[newclass=.cred]text-align:center;font-size:6pt;color:rgb(132, 132, 132);letter-spacing:1px;font-family:verdana;margin-top:5px;[/newclass]
[newclass=.cred a]color:rgb(132, 132, 132);font-size:6pt;letter-spacing:1px;font-family:verdana;[/newclass]