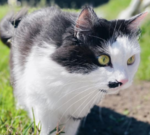 If you wanna play with power you're gambling with the king,
So bet on the crown,
Casino Royale
Chase your ambitions
❧
This was dangerous. Perhaps even reckless. Still, he could hardly pass up the opportunity to make contact. Bringing others with him was too risky, perhaps even to be perceived as a threat. But the power of these so-called "Feral Fangs" would be worthwhile if the rumours the rogues had told him were true. He'd heard they hated the Clans. He didn't doubt it. He hoped that his offer would be enough to justify working with a Clan cat.

He found what seemed to be their borderline, though it was weaker than he might have expected. Had Leafbare taken from them, too? He could catch a few distinct scents, but hardly the numbers he had heard. He only hoped the messenger he'd sent had been heard out and not gutted. It was so rare to find a loner that was willing to do such work so reliably.

He was tempted to cross, perhaps even seek out their camp, but he decided against it. He wanted to be seen as a respectful potential partner, not some interloper. These were cats to which he could show some of his hand without risk. Perhaps even a contingency plan should he fail.

So he would wait. He was quite good at waiting. The black and white tom sat a short distance from what he believed to be the border, waiting for any sign of activity. When the bushes finally rustled, his eyes darted to the cat that was emerging. Not the tom he was expecting, unfortunately.

"Hello," He mewed, dipping his head to her respectfully, "Would you happen to be here on behalf of King, perchance?"

word count ●
Prim
● notes
[newclass=.cred]text-align:center;font-size:6pt;color:rgb(132, 132, 132);letter-spacing:1px;font-family:verdana;margin-top:5px;[/newclass]
[newclass=.cred a]color:rgb(132, 132, 132);font-size:6pt;letter-spacing:1px;font-family:verdana;[/newclass]