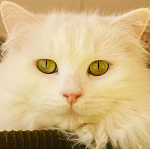 You were a vision in the morning
When the light came through
I know I've only felt religion when I've lied with you
❧
The white warrior supposed he ought to consider it a compliment that Tumblestar wanted him to take on an unruly apprentice. He had trained only two apprentices before, but Swiftfeather had certainly been a bit of a troublemaker. He also had a reputation of being quite strict, which was only partially true. The weakness in that strictness was why on their first morning as mentor and apprentice, Melondrop was standing outside the apprentice's den with narrowed eyes.
At this age, he would normally allow the tom more freedom, but it seemed unwise, given the recent reassignment. With a resigned sigh, he ducked his head into the den and called,
"Thrushpaw, we're going hunting."
Melondrop had thought deeply about how he was going to whip the tom into shape, but the truth of it was he needed to see the problem before he could do anything.
He didn't judge the tom so much for becoming a warrior late, since both he and his son had also had ceremonies at least a moon later than their siblings. From the sounds of it however, unlike Melondrop who had been an impulsive and angry youth, and Pearthistle who had been abrasive and standoffish, Thrushpaw had no such reputation.



He made his way to the camp entrance before turning to watch the entrance of the apprentice's den. Would less leeway be more beneficial? Perhaps Thrushpaw chafed under stict authority? Still, to become a warrior, he would need to grow accustomed to following direction. Perhaps he needed to be strict, but offer the tom opportunities to earn his independence. He was lost in thought, but to those unfamiliar with his resting expression, he would likely appear rather annoyed.
[newclass=.cred]text-align:center;font-size:6pt;color:rgb(132, 132, 132);letter-spacing:1px;font-family:verdana;margin-top:5px;[/newclass]
[newclass=.cred a]color:rgb(132, 132, 132);font-size:6pt;letter-spacing:1px;font-family:verdana;[/newclass]