A small island located south of the moonstones, and east of RiverClan. Rogues can occasionally be spotted around here.
No posts have been made on this board.
Forbidden Island is rumored to have once belonged to RiverClan until a terrifying incident happened, which caused RiverClan to abandon the island. The details of said incident are vague, but it is known to have included a great battle and now the island is supposedly haunted.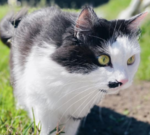 Just north of the two-leg farm there is a rocky shore made up of several caves and sandy shores below. This is where the Feral Fangs make their home, deep within the rocky mountains above the shore, using the cliff face to maneuver to their main camp. Their camp is made up a series of caves, with the largest dedicated to keeping the kits of their band safe.
CREATED BY
Perception
ON Jun 21, 2021 11:09:21 GMT 12
LAST POST BY
asleep
ON May 3, 2022 15:29:37 GMT 12
CREATED BY
Perception
ON Jun 21, 2021 10:17:47 GMT 12
LAST POST BY
Ventus
ON May 19, 2022 9:45:46 GMT 12 LAST POST BY
Goldenholly
ON Mar 22, 2022 3:45:00 GMT 12
CREATED BY
mothwing ☽
ON Oct 19, 2021 5:27:50 GMT 12
LAST POST BY
Prim
ON Dec 12, 2021 14:09:25 GMT 12
CREATED BY
Deleted
ON Aug 18, 2021 10:54:19 GMT 12
LAST POST BY
mothwing ☽
ON Nov 9, 2021 14:44:16 GMT 12