The ShadowClan camp is an old, abandoned cave. It may have once housed a family of bears, or a pack of wolves. Whatever it was, is long gone. The cave provides plenty of shelter and warmth. It is secure, with rocks littered around the edges.
The ThunderClan camp is sheltered between two mountainous peaks. It makes for an incredibly sheltered camp - not only from the elements, but predators too.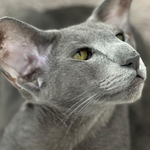 At the base of the Misty Falls, the water is fairly shallow. There is also a large overhanging oak tree. This is where the heart of RiverClan can be found. The cats have made their dens in small rocky burrows and around the base of the oak. Young kits are often allowed to play in and around the water since it is so shallow.
WindClan's camp is butted up against some shallow hills, not quite as steep as the rolling hills. The camp is still exposed with no shelter, as these cats tend to prefer. But, the hills does help protect them against some of the harsh winds that can roll in from the west
Archived threads can be found here. IN AFFILIATE WITH US BY

Yeti

AT Jan 12, 2022 14:28:22 GMT 12
Do you own, co-own, or help administrate a warrior cats, multi-species, wolf, or some other type of roleplay forum? Apply to become an affiliate with us! Do you own, co-own, or use a warrior cats, multi-species, wolf, or some type of roleplay forum? Throw your advertisement here! Have we already hit you with our advertisement and you're here to return the favor? Post under this board then! This board is also for all accepted advertisements or ones we have "linked back"!
0
STAFF
0
MEMBERS
8
GUESTS
forum stats
Deorum: A Warrior Cats Roleplay is home to 276 members. We have a total of 1,052 topics and 5,031 posts on our forum. There were 10 MEMBERS online today.